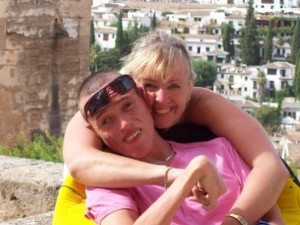 I'm Matt Howard and I live in Peterborough.
My life is no different from yours. I get up every morning wondering what the day will bring, who will offer me the 6 numbers for the lottery and a beach hut on a tropical island where my wheels won't get stuck in the sand…well that's the long term plan anyway.
Ok, let's go back.  July 2003, I was nearly 18yrs old, just about to finish college in Coventry; I started there 3 years earlier, from school. I was painted a picture of a new world, with great opportunities, so how can you say no to that?
Seriously though, I'd like to admit to agreeing to go to college, but really I just sat back and let everyone make the decisions for me, so for 3 yrs my address was…… Sunny Coventry, fantastic.
So…My time was up, I was released on good behaviour, and 3 years had flown by. I came away from college as a mature person, with a long list of girl friends, a qualification in flirting and an expert in Bacardi Breezers, and my destination  was…WAIT FOR IT….…. Mum & Dad's house……………PETERBOROUGH……. GREAT.
I arrived there with a car full of luggage and no plan of escape, you see this is what you get for sitting back and letting life pass by. I realised since I had been away everyone had changed, everyone being, my mum & dad and my brothers Simon & Chris; they had adapted to having fun without me. They had become independent. What was going on?
Simon my oldest brother had joined the RAF, and Chris my twin brother was working in Cambridge as an aircraft engineer.
SO WHAT ABOUT ME…?
I had always wanted to go home, I enjoyed weekends at home or college breaks, but this was different, I was moving in without a plan of escape, what was I supposed to do now, I'd been told that I'd grown up, but grown ups know what they want, don't they?. I didn't have a clue. I had no plans, no ideas; I just went with the flow.
I'd allowed the world to tick by; I would just sit back and smile and agree.
Once I got home my Social worker had been set the challenge of my cares, he agreed to give me home cares so that Mum & Dad could still live their lives and by doing this, it gave me a dose of independence. I would go out with Victor my friend and carer, and we would explore Peterborough, as you do, but my destination, at the end of each day, would always be Mum & Dads house.
I needed direction so with the support of friends and family, over the years I have progressed from that lost boy to this grown up you see before you.
I've done many things over the years…here's just a few.
I've been on a lads' holiday to Spain with Simon, Chris and Dave Williams who was my PA at the time. We drove there and back in my yellow bus, and made a video diary.
Simon, his wife Gail and I went to Italy in June 2010, via France and Andorra. I even got to have a go on a ski lift.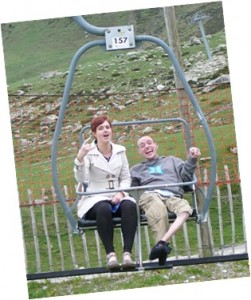 In September 2010 my whole family came with me to Cyprus, so to save you trying to work it out, that is 4 weeks of holidays for me in just one year!
I had a mega moving in party, at least that's what I'm told, I can't really remember.
I've been to Motown Concerts, I've been to see Mama Mia and I go to football matches. I regularly cook for my family, I have lectured at the Partners in Policy Making courses and I've been to Parliament to let ministers know who they actually work for.
All of this pales in comparison though because I have my own house!
I have chosen my own carers and how they work for me.

Finding the right PA can be the hardest part, it's like going to a dating agency, there seem to be so many frogs out there, and not many prince & princesses, until I found mine, without them I'd be in a right old pickle.
This is all made possible because I have an Individual Budget.
So where am I going from here?
Wherever I choose to go!
We had my first street party in August 2010 and 2011 to bring my community together, we worked with the local council, church & magazine and got out there BIG STYLE to make people aware that I am here and I plan to make an impact.
I am always open to new opportunities and right now, alongside being a Director of Inclusion East, I am involved in the start-up of a new business with some friends. Watch this space to find out more.